2016 – the new Turfline® mixture
Lawn grass seed as used on stadiums in France
In a football-mad year, only one turf-seed mixture will lift the trophy: Turfline® 2016 from DLF. 2016 is as tough and hard-wearing as the turf on many of France's finest stadiums.
This new Turfline® seed mixture comes in a limited edition and is the ideal stadium and back-garden turf: quick to establish, dense, high resistant to disease, and fast to recover from wear. Whether sown in a top international stadium or on a garden lawn, it embodies years of technical development by DLF researchers.

It is products like this that keep our Turfline® range at the forefront of the consumer grass seed market.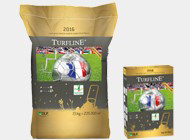 Explore the entire Turfline® range here
Download 2016 product leaflet