4turf® is SCANTURF's top ryegrass for the Nordic climate
It's official: the latest results from SCANTURF give 4turf® varieties the top three slots on its list for winter hardiness. The SCANTURF results confirm that 4turf® offers the best varieties of ryegrass for the harsh Nordic climate.
A vote of approval from SCANTURF/SCANGREEN
If you're looking for a lawn or a sports turf that will perform well in the harsh Nordic climate, you really should be choosing one of our three top-performing 4turf® varieties. That's the conclusion of the latest research by SCANTURF/SCANGREEN, the official independent turf-grass testing programme for Denmark, Sweden, Finland, Iceland, and Norway. SCANTURF has testing stations in each country at Tystofte, Landvik, Ylistaro, Reykjavik, and Apelsvoll.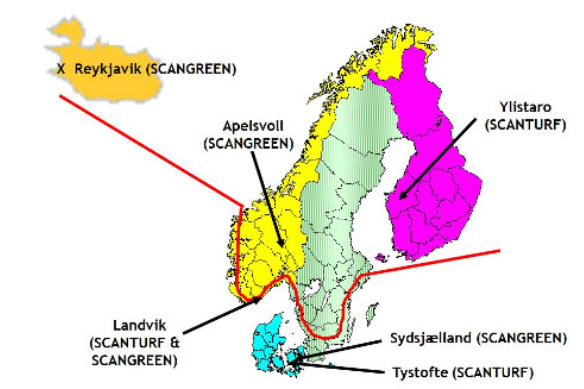 Figure 1; Location of trial sites
Testing for resilience to football-type wear
SCANTURF began in 2005. It's an optional programme that involves the testing of grass varieties for lawns and areas of sports turf exposed to football-type wear. The SCANGREEN programme is slightly different; it tests grasses used in golf greens.
Fresh trials of sports turfs begin every fourth year, and each trial runs for four years (one seeding year followed by three evaluation years). Candidate grasses are grown in three randomised field blocks measuring from 1.5m2 to 3m2. The grass is sown by hand in spring or summer depending on local conditions, but always in time for the grass to develop properly before the first season ends. When established, the turf is mown to 15mm as often as three times a week.
SCANTURF researchers evaluate each grass for a variety of desirable traits: visual appeal, density, fineness of leaves, and colour during growth period. During the winter they're also looking at disease resistance, growth rate, wear tolerance, and ability to withstand winter damage.
4turf® sets new standards for turf-grass performance
It's well-known that tetraploid grasses perform better than other turf grasses. Since we breed turf and sports grasses for quality and performance, we decided to use the potential of tetraploid grasses to create the foundation for a new generation of lawn and sports grasses now known as 4turf®. We developed 4turf® grasses for lawns and sports pitches – and especially for locations where tolerance and persistence are critical. Which is why they were chosen for the Confederations Cup 2017, EURO 2016 football tournament and for the Olympics at Brazil's Maracanã stadium.