4turf variety hits the "Top 20 list of innovative varieties"
The international seeds magazine European Seed has chosen and named the 20 most innovative plant varieties from 2020 in the European Seed Industry. Featuring a strong field of finalists, the jury chose to point to the grass variety FABIAN from DLF, which has set new standards for lawn grass with great stress tolerance and resilience.
The top 20 list spans a wide range of exotic and innovative varieties, such as the wheat with the black grains, the shallot with the downy mildew resistance, the artichoke with the big heads, the purple-colored broccoli and the extra sweet and nutritious tomato variety.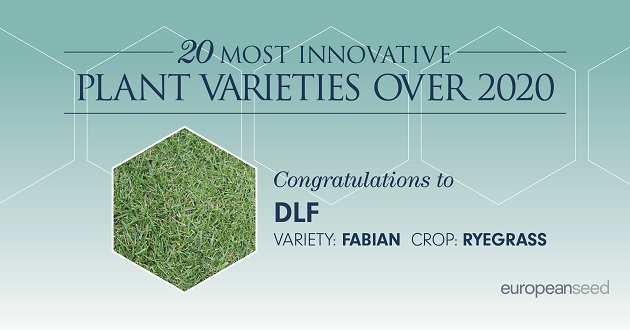 So what does the 4turf grass variety FABIAN from DLF have to offer?
In fact, quite a lot. Some of the most striking fature is the great stress tolerance that this resilient variety delivers, compared to standard varieties.
This is reflected in a significantly improved winter survival and a better winter color than usual. Fabian forms a fine-leaved and dense sward and has an amazing ability to resist disease and drought. Precisely drought tolerance is an important factor in grounds management, as it requires less irrigation, which in turn contributes to a lower risk of fungal attack in the lawn. Less irrigation is also the best way to limit the distribution of annual meadow grass.
"We are both happy and proud that our plant breeders have delivered a winner in the strong field that European Seed has put together," says Søren Halbye, who is a member of the executive board of DLF and heads DLF's European activities.
In recent years, DLF's plant breeders have delivered a number of new climate-tolerant and resilient varieties that are well suited to withstand the climate changes that the future brings.
The new 4turf perennial ryegrasses that FABIAN represents have become very popular in lawn mixes for sod producers and 4turf are well established both in brands for professional sports lawns and for private lawns. You can read more about the Top 20 list here and the 4turf grasses here.