Bio-refined Protein 
When sustainable farming generates higher profit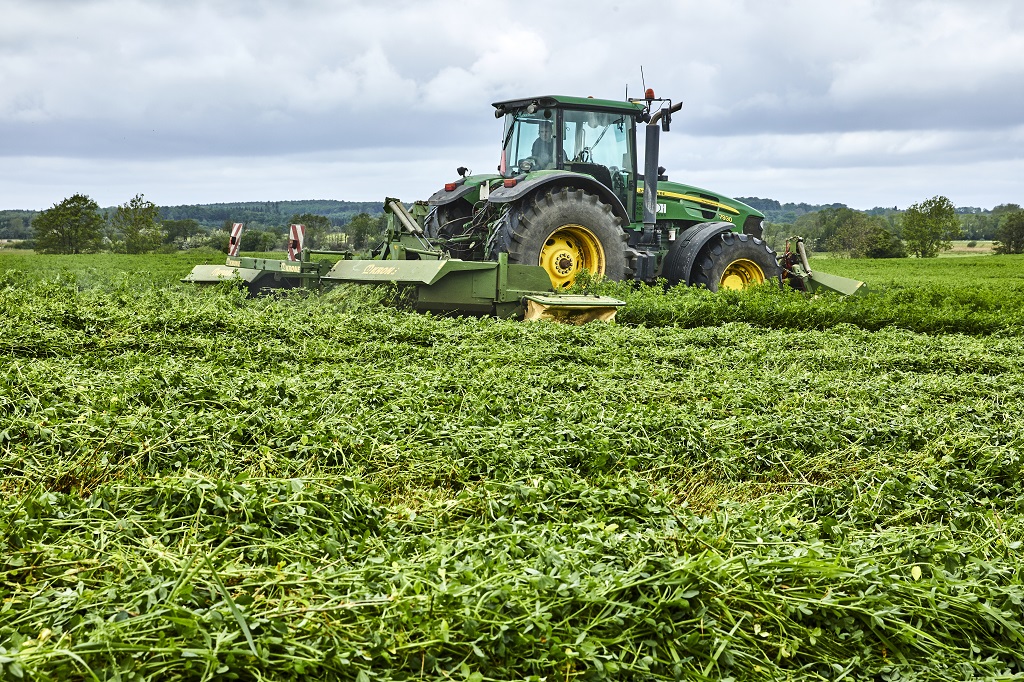 DLF is part of the global vision for a sustainable future as summarized in the UN Sustainable Development Goals. It is a focal point in our green agenda to provide farmers worldwide with sustainable agricultural solutions. Traditionally beef production has been grass-fed, but with an innovative refining process meat production from pigs and poultry can also benefit from the green advantages of feeding the animals with clover, grass and alfalfa. Bio-refined protein is one of many sustainable products that increase agricultural productivity and goes hand in hand with a climate-neutral future.
DLF aspires to work with many different partners to reduce climate impact for the agricultural sector. Bio-refined protein from grass and alfalfa is a brand-new business area in the refined protein segment. Selected partners are involved in the business development of grass-protein and DLF is proud to be one of them.
Increasing population requires sustainable meat production
Demand is increasing for a locally produced sustainable alternative to imported soy. A locally grown protein for feed will meet the future needs for sustainable meat production. The global demand for meat is high and will increase along with the human population.
Innovative forage solutions will fulfill the demand for locally grown protein. Bio-refined protein will be part of this solution.
Climate-friendly protein production
Perennial production has a positive impact on the environment and climate impact from agricultural production. Grass and alfalfa have an interesting profile for a refine protein, as the production of leaf biomass is high. The protein stored in leaves are by nature directly available to ruminants. A new innovative refining process concentrates protein from grass and alfalfa to be a valuable protein source to feed pigs and poultry.
A breakthrough for climate-changing protein production going from imported soy to locally grown protein in grass, clover and alfalfa.
In May 2020, three agricultural companies in Denmark have agreed to establish BioRefine Denmark A/S, a green biorefinery designed to produce protein for organic feed based on grass, clover and alfalfa from approx. 2.000 hectares.
With Bio-refined proteins local farmers will be able to:
Locally grown – fewer emissions. A conversion from imported soy to locally grown grass or alfalfa will reduce the effect on the climate and decrease emissions from agriculture and transport.
Concerning UN Sustainable Development Goals
DLF solutions are optimized to maximize output and minimize the input of other resources by being resilient to changed climate conditions. Optimized solutions from DLF reduce the global climate and environmental impact. DLF Bio-refined Protein makes a unique contribution to:
Achieve food security by increasing productivity (goal 2)
Takes urgent action to combat climate change by sequestrating methane (goal 13)
The goal of Life on land – Protect, restore and promote sustainable use of terrestrial ecosystems (goal 15)
Studies at Aarhus University show up to 50 percent of the protein extractable from forage is digestible for pigs and poultry with optimal amino acid composition.