Breeding towards durable turf and more playing hours
As most of us love watching the big sport events played on natural grass, it is appropriate to ask professional turf managers what their "dream features" of turf is? And what features of the turf, gives the most value on the pitch?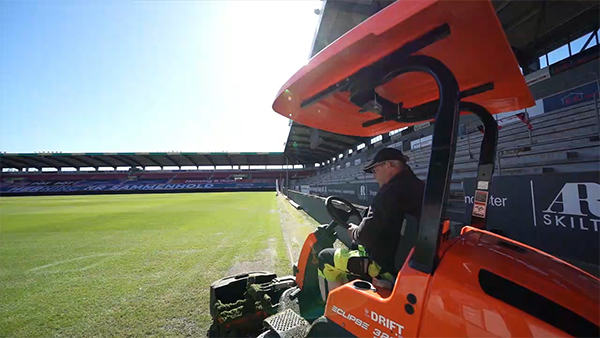 Professional turf managers want something out of the ordinary and ask seed companies to deliver more resilience, flexibility in management and speed of turf establishment.
To be more precise, they want a fast and uniform germination, and a durable, dense growth that, with the correct cutting and fertilizing management, allows the football a superfast roll. The key demands from professional turf managers are solutions compatible with the short pitch renovation period between two playing seasons of only 6-8 weeks during summer.

In Europe the recommended variety lists display wear tolerance, wear recovery, turf diseases and general turf quality. The wear tolerance is important to acquire, and can be improved through extensive breeding. The wear recovery can be improved by overseeding.
Grass varieties are evaluated for different characteristics in local trials to get a recommendation. But because professional turf managers are working within different market segments, they need turf solutions that are tailor made to specific segments, to be able to add more value to their business.

For training pitches and municipality sport fields it is crucial to look at persistence, wear tolerance and recovery. But to obtain a high wear tolerance, economic sustainability and sufficient playing hours, high profiled arenas frequently practice overseeding in the most optimal time laps.
The natural turf surface must provide ball speed, wear tolerance and a solid surface grip to the players, a soft landing if they fall, and a cooling effect on hot days. All these factors are important during the football match. The expectations to the turf between matches does not rest; it has to deliver a fast recovery by regrowth and a high level of disease tolerance 24/7. By choosing high quality grass seed, it will germinate within a week after sowing and establish fast.
A stadium, with various tough activities during the year, is a complex environment for grass growth. With heating, germination covers, shadowed by grandstands and light is added by fixtures rolled in. The heat, shadow and damp creates a microenvironment that boosts fungal diseases to develop. That is why disease tolerance is essential to support wear tolerance during the season. Plants are significantly less wear tolerant when affected by fungal diseases.
To solve these challenges, turf variety plant breeders have targeted breeding goals and the need for innovation. A way to fulfill to these challenges, is to test new breeding lines in various locations. DLF has a global trial network to select for various virulent diseases. If a new breeding line displays significant disease symptoms, it will be discarded. So professional turf managers can be certain, that new turf varieties are thoroughly tested for disease tolerance, before they can make it to the top of the variety list.

The desire of looking beyond the scores on the variety lists has led to innovative solutions like 4turf® the turf tetraploid ryegrass and numerous beneficial seed treatments that ensures professional turf managers can achieve lower costs and higher flexibility in the periods they need them most. With this research, plant breeding and seed technology offer more playing hours and supports natural and durable turf.