Champions League final kicks off a summer of football
When Europe's two finest football teams, Real Madrid and Juventus, come together for the Champions League final in Wales on 3 June, they will step out on to the world's finest turf. Nothing less than perfect will do for the Champions League final, a global event attracting TV audiences of around 200 million from across 200 countries. At the end of the game there can be only one winner – and only one turf, tough enough to be crowned champion of Europe.
If you think it is hard to become one of the two teams that make it to the Champions League final, imagine how much harder it is to prepare the pitch for such a high-profile event. Cardiff's Principality Stadium is a challenging place to grow grass. The stadium is only partially open to the sky; it lets in daylight through a rectangle of retractable glass directly above the pitch.
Turf for the Principality Stadium must be tolerant of shade and wear, and provide the dense green ground cover that TV audiences like. So it is no surprise to learn that DLF turf varieties are a major component of Cardiff's bright green pitch – and one of the factors that helps turn a European football final into a worldwide TV spectacular.

Two weeks after a triumphant European team lifts the Champions League trophy, the eyes of world football will turn to Russia and the Confederations Cup. The contest, which takes place in the cities of Kazan, Moscow, Saint Petersburg and Sochi between 17 June and 2 July, is a prelude to the 2018 World Cup.
The Confederations Cup is a test for turf growers as much as it is for players. Russia's tough continental climate – cold winters and hot summers – can be hard on sports pitches. Luckily DLF varieties are well represented on the Russian turf-grass variety list, and our exclusive 4turf® varieties will be helping to prepare Russian pitches for this summer's Confederations Cup and next year's World Cup.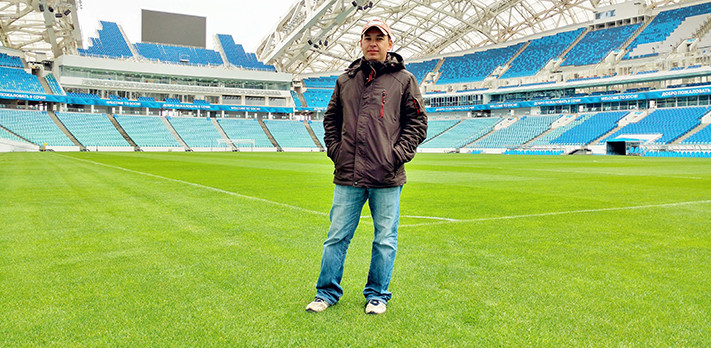 Groundsman Dmitry Miheev at Fisht Stadium in Sochi.
For football fans, 2017 will be a year to remember. This endless summer of football finishes with the Women's Euro finals in the Netherlands. Between 16 July and 6 August, 16 European national teams will play 31 matches at seven Dutch stadiums.
Since this summer is all about turf as well as football, grass breeding and genetics from DLF will be well represented at the Women's Euro tournament.
At DLF, we are as excited as the players and fans are about the outcome of these three football tournaments. We wish the very best of luck to the participating teams – and success to the groundsmen of Cardiff, Russia, and the Netherlands.