Confederations Cup 2017 semi-finals on 4turf®
Portugal, Mexico, Germany and Chile are ready for the two semi-finals in Russias Confederations Cup. 4turf is an important part of the overseeding solutions on both Fisht Stadium in Sochi and Kazan Arena - the hosts for the semi-finals
Top turf for Russia's World Cup warm-up
The group matches in the Confederations Cup has eliminated four out of eight national teams, and the semi-finals are scheduled to June 28 and 29 in Kazan and Sochi. The Confederations Cup is a test for turf growers as much as it is for players. Russia's tough continental climate – cold winters and hot summers – can be a challenge for sports pitches. The overseeding solutions for both stadiums hosting the semi-finals involves 4turf® varieties, that sets new standards for turf-grass performance. For example, 4turf® varieties from DLF have performed so well in their SCANTURF winter trials, that they now hold the top-three positions on the Scanturf winter hardiness list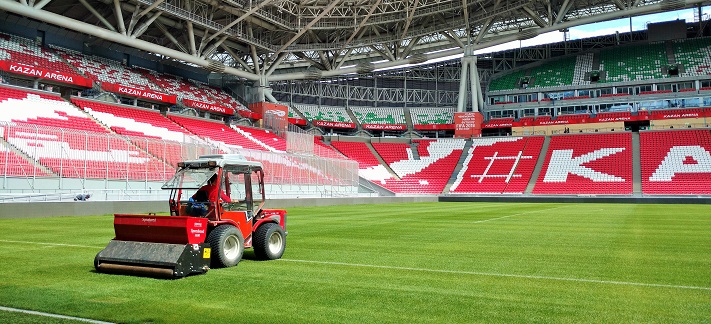 Overseeding the Kazan Stadium May 19. The traditional diploid turf perennial ryegrasses are combined with the exclusive 4turf® varieties in a special mixture, that improves features like stress tolerance and disease resistance.
The Kazan Arena, the home of Rubin Kazan, is located 800 km east of Moscow and has a humid continential climate with long, cold winters and warm, often dry summers. As a result of its far inland position, summers are extremely warm for its latitude and winters are quite cold compared to areas further west in Europe. Russia's tough continental climate can be hard on sports pitches and such conditions is a big challenge for groundsmen with one defined goal: Making the perfect pitch for the football players. An important part of the turf management is to choose the best adapted and well proven grass seed varieties in order to create a vital, healthy and tough turf grass carpet ready for the tournament.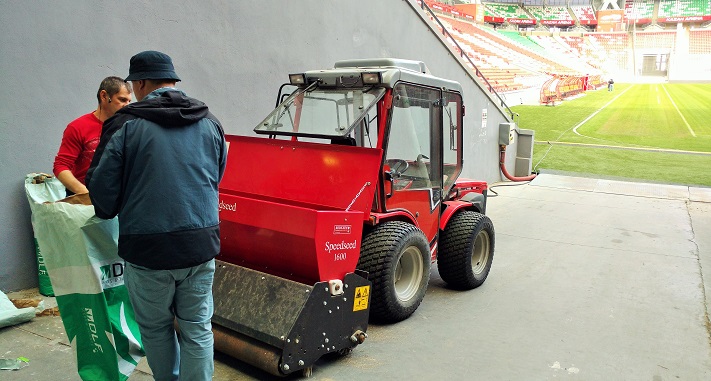 Fisht Stadium is located 1600 km south of Moscow along the east side of the Black Sea at a latitude similar to the south of France. It is a completely different climate comparet with the other three host cities, Kazan, Saint Petersburg and Moscow. Sochi has a humid subtropical climate with a large variety of weather conditions, from snowfalls in winter and very hot and humid summer.
Fisht Stadium was seeded last autumn with a Kentucky bluegrass mixture from DLF to make strong base of rhizomes adding wear tolerance and endurance to the pitch. It was followed by an overseeding with a special Perennial ryegrass mixture designed to promote establishment, shoot density, wear tolerance and disease tolerance. In May 2017 the pitch was overseeded, this time with a brand new ryegrass mixture from DLF including the 4turf® variety Fabian, that represents the newest advances in the 4turf® technology. 4turf® improves root length, thus improving drought – and stress tolerance, features needed in a prestigious summer sports top-event.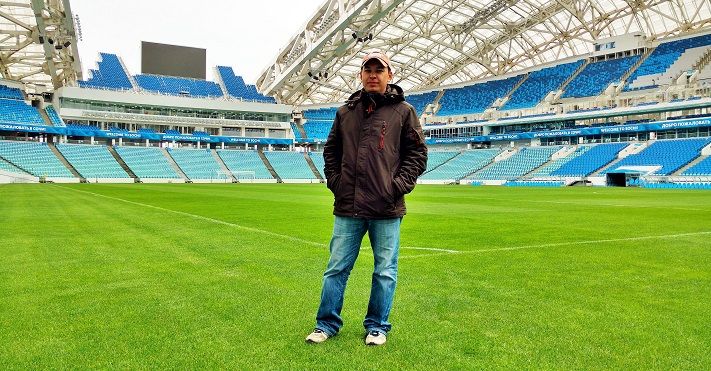 Dmitry Miheev, Head Groundsman at Fisht Stadium, Sochi
It's well-known that tetraploid grasses perform better than other turf grasses. Since DLF breeds turf and sports grasses for quality and performance, we decided to use the potential of tetraploid grasses to create the foundation for a new generation of lawn and sports grasses now known as 4turf® especially suited for locations where disease tolerance and persistence are critical. Our exclusive 4turf® varieties is an important partner in helping to prepare Russian pitches for this summer's Confederations Cup and next year's World Cup.