Danish farmers discover the latest techniques at Grassland & Muck
DLF took a party of curious Danish farmers to Grassland & Muck, a huge 80-hectare showground hosting the UK's largest event for forage grass and agricultural machinery. Find out what persuaded busy farmers to leave their farms mid-season.
Grassland & Muck shows Danish farmers what's new in grassland management
Grassland & Muck is such a big event, it comes round only once every three years. For farmers who are interested in forage and grassland management, the show is not to be missed – even though it falls at the height of the farming season. So DLF invited a party of almost 40 Danish farmers to join them for a couple of days in the UK on a fact-finding tour of Grassland & Muck.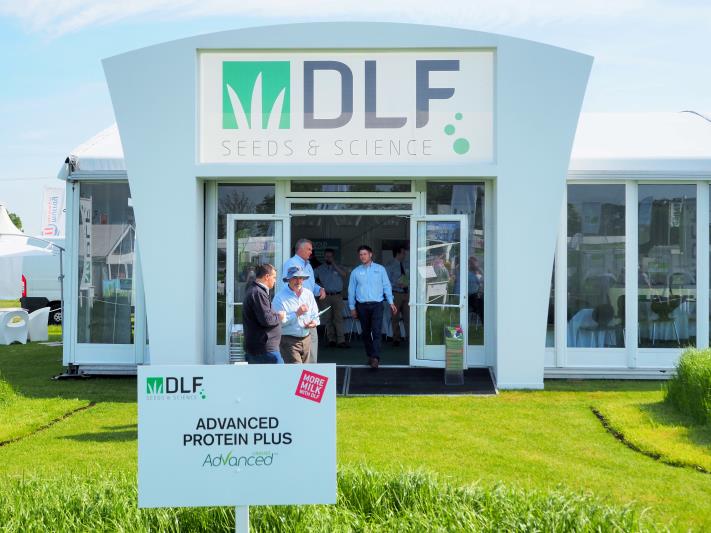 Danish farmers eager for new ideas
The trip started with a visit to a local milk producer, who was delighted to show our guests round his 100-hectare farm. Although there are obvious differences between Danish and English methods of dairy farming, it was clear that both groups of farmers share a can-do attitude and an eagerness to test new ideas and challenge traditional ways of working.
New techniques and new grass varieties
Grassland & Muck (G&M) is a two-day, triennial event organised by the Royal Agricultural Society of England. It covers an area of nearly 80 hectares and is easily the biggest and best event of its kind in the UK. The show attracts more than 250 exhibitors covering the whole range of materials and equipment for forage and grassland management.
During the two days of the show, visitors can talk to suppliers, attend lectures, and watch demonstrations. That's why G&M is such a good place to learn about new methods and technologies, and to hear the latest scientific research into grass growing and storage, and techniques for improving its feed value. There are even opportunities to test the latest grass-handling machinery because much of the showground is thick and green with grass varieties from DLF.
We use G&M to launch new varieties that have recently been accepted on the England and Wales recommended grass and clover list. This year DLF has developed 25% of the new varieties on the list, and we're the only supplier to offer a new red clover, Hegemon.
For our Danish guests, G&M proved to be an excellent source of ideas that they can take home to improve productivity and profitability on their own farms.