Denmark's National Stadium changes pitch after Coldplay concerts
Following two sold-out concerts with the British rock stars from Coldplay, it is time to change the pitch at Denmark's National Stadium, Telia Parken in Copenhagen. DLF is proud to provide the turf ahead of a busy and exiting season
The stadium is home to the reigning Danish Champions from FC Copenhagen as well as the Danish National Football Team. The Danish Champions hope to qualify for this seasons Champions League, and the National Team will soon begin qualification for the 2018 World Cup. It is important to have a pitch in peak condition to provide the best possible conditions for the players.
The pitch is grown/developed at the DLF turf facility in Spandet, near Ribe in Denmark, and the 475 rolls of turf were cut up and 4 hours later ready to be put in place at Telia Parken during the weekend Juli 9-10.
Danish Groundsman of the year 2015, Daniel Madsen from Telia Parken, is impressed and very pleased with the density, durability and color of the new pitch.
"Our new pitch from DLF is looking good and meets all our requirements for an elite sports pitch, and I am comfortable to release it for the coming football matches," Daniel Madsen says.

The preparations for the new pitch have been meticulous, leaving nothing to chance. The turf has been grown on a special soil with a texture similar to the one in Telia Parken, to ensure a quick and compatible establishment.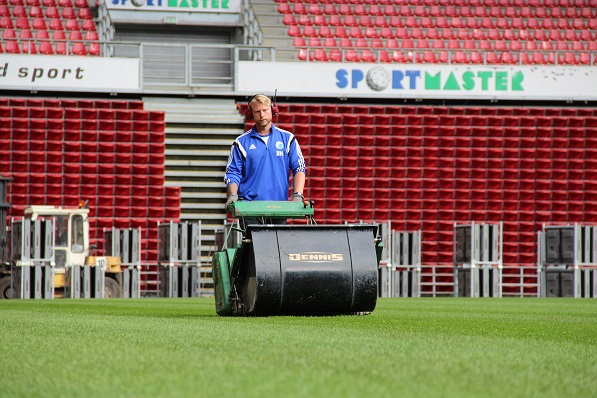 Facts about the turf for Telia Parken:
The cutting of the turf is done at night, when it is colder
It takes 45 min to cut enough turf to fill a truck
19 trucks with 26 rolls each moved the turf from the growing facility in Ribe to Telia Parken
The first rolls was placed at 7.30 AM on Saturday and the pitch is in place at noon on Sunday
It took 475 rolls of turf to cover the entire pitch
The rolls are 15 m in length, 120 cm wide, 4 cm thick and covers 18m2
Placing the turf is a 15 man job and each roll weighs 1.100-1.200 kg
The turf is a ProTurf Plus solution from DLF. It consists of 70% smooth-stalked meadow grass, 30% perennial ryegrass – including 4turf ryegrass.
This type of turf is an elite solution for high-performing sports turf with high durability and re-growth abilities.