Did you know that there is no "one-size-fits-all" turf management solution?
A well managed turf shouldn't be a trade-off, but a mix of knowing when to react and a careful selection of the right seed fitted for the purpose.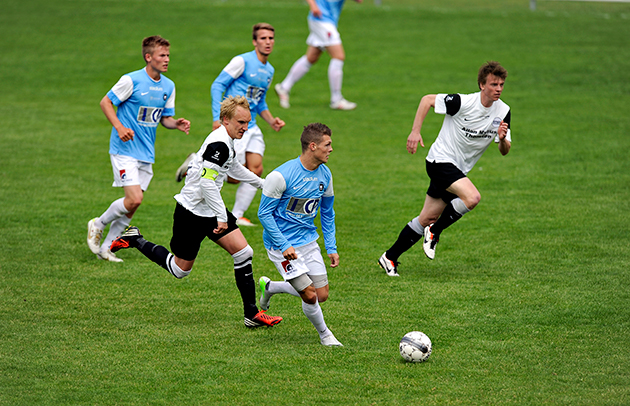 Your skills as a groundsman or greenkeeper are fundamental to the success of your turf. You work tirelessly to keep the grass in tip-top condition so that others can enjoy it.
But you can only do so much on your own. For the most professional results, you need the best grass seed you can lay your hands on. With top-performing seeds you really can perform the miracles that others expect of you. You can establish turf faster – and with overseeding, you can repair and revive it after a weekend of non-stop sport or upgrade it at the end of a long and hard-fought season.
Turf management requires both knowledge and insight. Depending on what requirements you have for your turf, there are different strategies and, grass species and varieties, to lean on.
For turf that must stand up to hard wear, you need a stress-tolerant and disease resistant turf with a dense sward. You also need a carefully planned overseeding schedule and seeds that deliver their full potential.
The characteristics of different species must be fitted to the purpose in order for your turf to perform as expected and no characteristic can stand alone. Stolons, for example, can be good for solving some turf issues, but they cannot stand alone as a turf management strategy.
Stolons in ryegrasses are not generated in the first phase of establishment. And since ryegrass stolons are determinate, each stolon will cease lateral growth with the production of each shoot. Consequently, this particular feature cannot stand alone as a solution e.g. in pro football pitches where the sward is renewed frequently.
Some good advice on pro turf management in football and golf:
Efficient seed varieties make maintenance easier, and produce a better result. For example, dense and vigorous varieties resist weed invasion, while adding Microclover® increases your nitrogen efficiency and reduces the need for fertiliser
For a more hard-wearing turf choose mixtures with high-wear and shade tolerance, as well as disease-resistance
Drought-tolerant varieties will need less water
You can overseed throughout the season, but always choose seeds that suit the time of the year
Salt inhibits the growth of normal grass strains. Choose a salt-tolerant turf mixture if you have high levels of salinity in the turf surroundings or water
For high-traffic areas sow grasses with good wear-tolerance