DLF and Seedtech announce new Joint Venture in Ireland
DLF-TRIFOLIUM, the worlds leading grass seed breeder, and Seedtech, one of Irelands foremost grass and forage businesses, announce new Joint Venture in Ireland.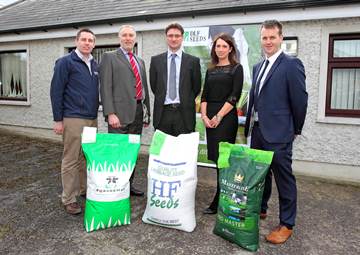 Waterford based Seedtech, part of the Arvum Group, and DLF-TRIFOLIUM, the world's largest producer of grass and clover seed, have launched a new business in Ireland - DLF Seeds. The new wholesale business, based in Waterford, combines DLF's global leadership in grass breeding with Seedtech's local research, development and wholesaling capabilities to provide Irish distributors with the very best in grass and forage seed technology. DLF Seeds represents a significant increase in investment and resources in Ireland for Arvum, including a planned new seed processing and distribution center, the establishment of variety and mixture trials and the recruitment of additional technical support staff.
The official company launch takes place on the 31st of March at the Village at Lyons Hotel, Kildare, Ireland. Proceedings will commence with an informative presentation from General Manager Paul Flangan on DLF Seeds extensive product portfolio, plans for grass trials and research development in Ireland.
For more information please visit www.dlfseeds.ie