DLF grass at Copa América 2015
When Messi, Neymar and the rest of the South American superstars clash for this summers big football tournament, the games will once again be played on DLF grass
Who can claim the right to the title of South American Football Champions for the next four years? It is settled on the 4th of July in Estádio Nacional in Santiago, Chile. The group stage is over and only the quarter-finals, semi-finals and final remain. The grass pitches have been carefully prepared prior to the tournament and the general feedback is positive. The pitches are made with sports grass developed by DLF-TRIFOLIUM, world market leader in temperate grass.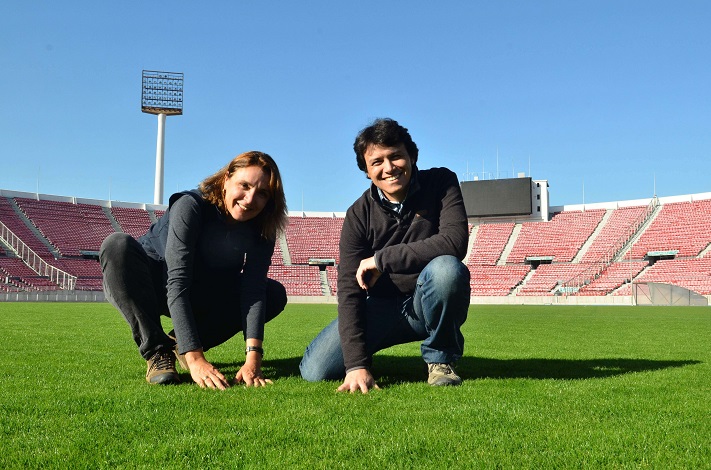 Maristela Khun, grass expert responsible for the pitches at the World Cup in Brazil 2014 and Ricardo Arias from Turf Chile responsible for the Copa stadium´s
Copa América is the most prestigious football tournament for national teams in Latin America, and the teams are currently fighting for the championship. Eight teams are ready for the quarterfinals in the battle to claim the bragging rights as the best national team for the next four years.

It has been an important issue for the Local Organizing Committee (LOC) to have access to the optimal grass solutions for the finals. The experiences from last years World Cup in Brazil is still fresh in our memories, and these experiences have been put to good use for the Copa América.
The finals are played in nine venues, with a distance of 1,700 km from north to south. As much as the distance from Copenhagen to Barcelona. Therefore the grass must be adapted for an optimal performance under very different climatic conditions.

Anasac Ambiental, the distributor of DLF sports grass in Chile, received the order for supplying seed to all stadiums and training pitches. In order to make the piches as homogeneous and as fair as possible for all teams they recommended the same grass mixture - Ph.D. - for all the Copa pitches both for seeding and overseeding. The Perennial ryegrass mixture Ph.D.is the most popular sports grass brand in South America, recognized by its quick establishment and strong wear tolerance and containing top rated turf perennials from DLF.
Ricardo Arias from Turf Chile responsible for the Copa stadiums, are satisfied with the pitches so far: "The pitch quality has been excellent during the tournament and I am confident, that the grass will continue to match the high quality standards at the final matches of the Copa," he says.
"We have supported our partner with our knowledge of grass and experience from other top-events, and the pitch preparation work has been professionally handled by the local teams," says Maximino Borsi, General Manager in DLF South America.
• Estadio Nacional in Santiago, is Chile's national stadium and the host of six of the tournament matches, including the opening match, quarter finals, semi finals and final match
• Chile, Uruguay, Bolivia, Peru, Argentina, Colombia, Paraguay and Brazil are ready for the quarter-finals
• A total of 44 football pitches are in play during the tournament, nine of which are stadiums located in eight Chilean cities. The rest are training courses and base camps for the teams
• Some of the pitches have been established recently, while others have been overseeded. A seeding rate of about 1.000 kg grass have been used for pitch overseeding
More information: General Manager Maximino Borsi +54 911 305 91 903