DLF grass for the "Greatest Show On Turf"
Phoenix Open is the world's biggest golf tournament. 132 professional golfers play the 72 holes from the 2th-5th February and the organizers expect more than 600,000 spectators for the tournament, followed worldwide by millions of golf enthusiasts. The winner of the tournament gets $1.2 of the $6.7 million purse
Seed Research of Oregon is proud to have over 20 years supplying the overseeding for this exciting tournament. We work closely with the TPC Scottsdale staff on trials and test plots to give them the best results possible for this high profile tournament.
The Stadium Course is in great condition for the tournament this week. Tournament officials estimate attendance of 600,000 people expected over the 7 days of the tournament this year. Construction on the boxes and stands started 2 weeks earlier this year, to accommodate additional structures and seating. The temporary stadium built around the 16th green has been enlarged and will now hold almost 18,000 people.
Tournament Dates:
Thursday thru Sunday, February 2nd thru February 5th, with additional charity and Pro-Am events scheduled earlier in the week. Check your local listings and tune in.
The tees, fairways and roughs were overseeded in late September with 100% Seed Research of Oregon turf seed. Champion Fine is a mixture of SR 5130 Chewings Fescue with Champion GQ Perennial Ryegrass Blend. This mixture provides a great playing surface during Scottsdale's cold and overcast late winter conditions. Additional SR 5130 Chewings Fescue was added to the tees on famous Hole #16, where heavy shade is an issue. The greens were overseeded with a custom mixture for the specific conditions on this course, including Vesper Velvet Bentgrass, blended with Maximum Poa Trivialis and Champion GQ Perennial Ryegrass to provide a superior quality playing surface. Watch for the interesting mounds in the large bunker before Hole #18, planted with Tradition Fine Fescue Mixture for contrast and interest on this signature hole.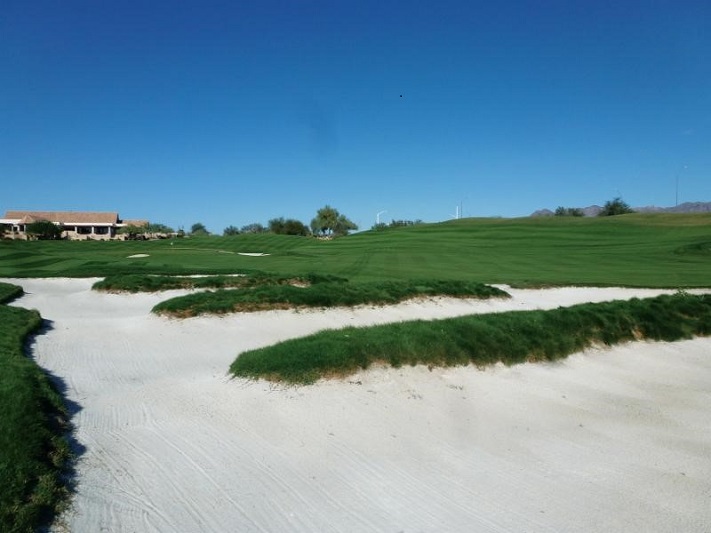 DLF supplies turfgrass seed to the famous golf course located in Scottsdale, Arizona. DLF markets turfgrass for golf courses through the brand Seed Research of Oregon (SRO) known for excellence in turf grass varieties for the most demanding customers. SRO has for more than 20 years been the proud supplier of the planting seed for "The Largest Show on Turf" at TPC-Scottsdale.