DLF grass for top golf tournament
Seed Research of Oregon turfgrass varieties are once again featured at the largest golf tournament in the world
For the last 17 years, Seed Research of Oregon turfgrass varieties are featured at the largest golf tournament in the world. The Waste Management Phoenix Open in Scottsdale, Arizona. Attendance each year attracts 400-500.000 people over the 4-day tournament, and the tournament is watched on TV by millions. Tiger Woods is expected a comeback in the PGA tournament which begins on Thursday the 29th of January.
The course renovation and overseeding has involved several products from the SRO product range. The greens were rebuilt and oversown with Velvet Bentgrass and Poa Trivialis. Tees, fairways and roughs were oversown with af mixture of turf Perennial Ryegrass and Chewings Fescue to match the unique conditions at this course for this mid-winter tournament.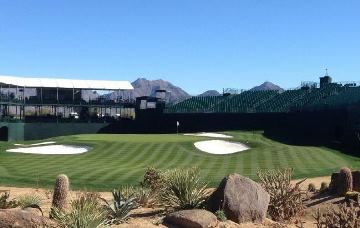 The DLF-TRIFOLIUM Group has, through its group company in North America - DLF Pickseed, been the grass seed supplier for the numerous renovations at this golf course. The DLF-TRIFOLIUM Group markets turfgrass in the golf segment and the rest of the professional turf market through the well known and estimated brand Seed Research of Oregon (SRO), known for top quality turf grass varieties and solutions for the most demanding customers.