DLF Open Day 2016
DLF Grass and Forage trials viewed by visitors for the first time at Faithlegg, Co. Waterford


Significant Investment in Grass Research by DLF
DLF hosted a very successful open day at their new trials facility in Faithlegg, Co. Waterford to mark the first anniversary of its establishing a dedicated research and trading division in Ireland. Visitors took the opportunity to view the extensive grass and forage trials and were given an insight into the latest news from the DLF research and development program.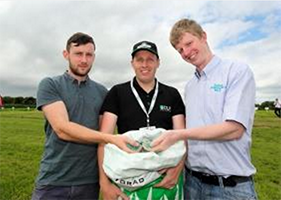 General Manager Paul Flanagan opened proceedings by outlining the scope of the new DLF research site, telling visitors, "this site represents the largest investment by any seed company in grass and forage variety trials in Ireland." Visitors were impressed at the scale of DLF's trial site with a single plant nursery of 8,000 plants and an additional 800 plots of grass varieties already planted. Work is underway to increase the single plant nursery to 32,000 plants and the variety plots to 2,500 plots by 2017. Visitors also learned about the international scale of DLF's research activities, giving DLF customers access to an unmatched database of grass genetics.
Trials Manager Jimmy Staples told the audience how "DLF are selecting varieties for Ireland using novel technology devised by DLF and went on to say "we have a Haldrup Plot Combine which is specifically designed for grass trials. The harvester is equipped with Near-infrared spectroscopy (NIRS) which allows us to collect vast amounts of data quickly. The harvester can instantly measure fresh weight, DM, DMD, WSC & protein content and this means the trials team can cover a large number of varieties and plots in a very efficient and accurate manner.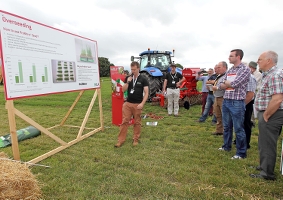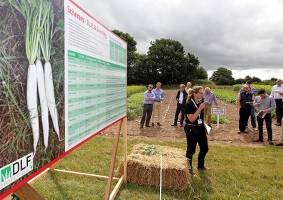 Although the main focus of the day was around grassland research, DLF also had a host of other products on display including Beet, Maize, Kale and the latest in GLAS seed mixtures and cover crops.
Also at the open day was David Murray from Templetuohy Farm Machinery discussing drills for overseeding of grassland with DLF's novel nitrogen coated grass seed ProNitro. Early results from ProNitro trials were showing a 200% increase in fresh weight within the first 21 days. DLF Business Manager Damian McAllister gave a detailed technical briefing on overseeding while explaining where DLF's latest seed technology ProNitro fits into the market and farm overseeding programs. Damian estimated current reseeding costs in the region of €300 - €350/acre depending on the methods used, whilst a substantial improvement in grassland can be made with regular overseeding with ProNitro for less than €100/acre - certainly worth consideration.
When closing the day, General Manager Paul Flanagan gave an open invitation to all farmer groups to visit the site - "we would be delighted to host farmer groups at any time of the year, we always have something new going on and a lot of varieties to choose from on display". The next open day is scheduled for Wednesday, 3rd of August and is geared specifically for farmer discussion groups.
DLF's open day will be an annual event to launch new varieties, products, discuss market trends and give customers first hand knowledge of how much research and testing goes into bringing a grass variety to the customer. Keep an eye on www.dlf.ie and on twitter @DLFseeds for the latest news.
More about DLF:
DLF is a global seed company dealing in forage and amenity seeds, and other crops. DLF Ireland is a joint venture between Danish Based Cooperative DLF and Seed Technology. The combination of DLF's global leadership in grass and clover breeding with Seedtech's local research, development and wholesaling capabilities is providing Irish distributors with the very best in grass and forage seed technology.
With a 50% market share in Europe and 25% worldwide, there's a good chance the animals that provide your milk, meat, and wool gathered the nutrition they need from DLF grass. If you enjoy sport, you may well have seen your favourite team score on a pitch turfed with our grass. If you like relaxing on your own garden lawn, that too may well have begun life as a sack of DLF seeds.
DLF is the global market leader providing grass and clover seeds to more than 80 countries
Contact Details
For more information please contact Paul Flanagan, General Manager DLF
Email: pflanagan@dlfseeds.ie
Tel: 086 60247650
DLF, Ballymountain, Ferrybank, Waterford.
Distributed by Ellenor Mc Donnell, Marketing Executive DLF
Email: emcdonnell@arvumgroup.ie
Tel: 051 897689
DLF, Ballymountain, Ferrybank, Waterford.