DLF plant breeder among the 20 most inspiring
Congratulations to Etienne Abélard, turf breeder at DLF for being named in the 20 Most Inspiring Gen Z Employees in the EU Seed Sector in 2022!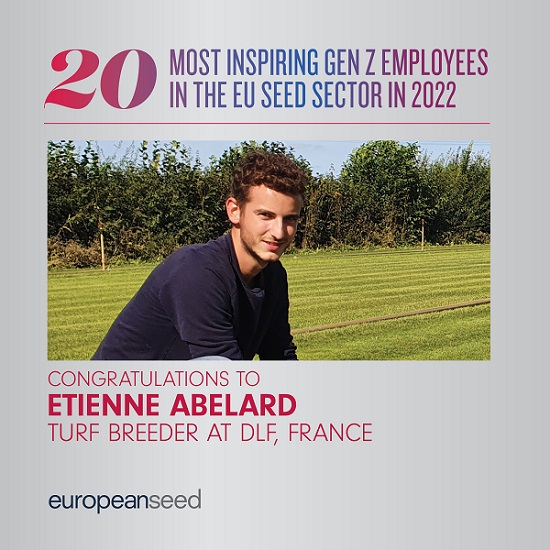 Etienne Abelard, Turf Breeder at DLF, France
"Passion for agriculture" have been key words for Etienne. After completing a plant breeding internship at the age of 15, from then on, he wanted to be a plant breeder. Etienne started his career at DLF during work-study training. He combines acquired theoretical and practical knowledge, to breed new turf grass varieties in a constantly changing agricultural and environmental context. Etienne has shown technical acumen by implementing the latest breeding methods — such as genome wide selection and high-throughput phenotyping by using remote imaging — to improve and ensure the flow of new varieties. He aspires to implement new technologies to improve the breeding programs of synthetic varieties and increase genetic gain of these programs being in the forefront of the technological development.
Etienne's dream is — with the help of New Breeding Techniques — to reduce the breeding cycle of grass from 10-12 years to 6-8 years to react more quickly to climate change and market expectations. He is working closely with Christophe Galbrun, at the R&D station in France, who is specialized in turf grass breeding.