DLF seed between the rails at the new Tram line in Aarhus, Denmark
DLF seed can be found the stranges places. Now also between the rails at a new tram line.
The landscaping company, Anders Matthiessen, asked DLF to do the hydro-seeding along the rails. "The growth layer is very special and the grass seeds sown must be able to stick to the medium (before the rooting has taken place) and later to tolerate drought," says Uve Jessen from the construction company Anders Matthiessen.
It is important that the visual expression between the rails and the outside of the rails is different. Between the rails, it is necessary to cut the grass more often because the grass shouldn't grow too high, because the tram is running there but also so that it does not pose a fire hazard in dry periods. On the other hand, outside the rails the grass needs to be taller and with wild flowers to avoid people from crossing the rails.

The selected mixtures were hydro-seeded together with a mix of cellulose, which makes the grass stick to the growth medium until rooting has taken place. Among the species in the mixture was hard fescue because it is incredibly drought tolerant.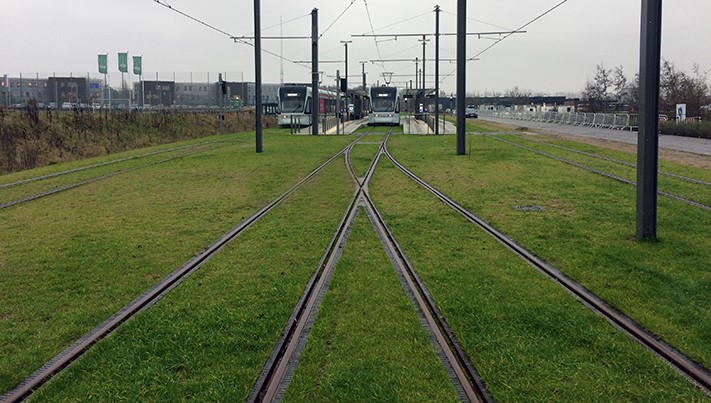 DFL seeds at Aarhus Letbane! Photo taken primo December 2017.