FABIAN 4turf is the best turf grass for tough northern winters
In independent trials conducted in Finland, our 4turf® variety, FABIAN, outperformed five other varieties of perennial ryegrass by a huge margin. FABIAN's winter survival rates were more than 50% better than its nearest rival.
FABIAN 4turf® is the number-one choice for lawn and sports turf in cold northern climates
In independent tests, FABIAN 4turf® was more than 50% better at surviving the extreme cold of a Finnish winter. FABIAN came through with a plant-survival rate in excess of 75% compared to a survival rate below 50% for the next best performer. As the graph below shows, the difference in performance between FABIAN and its perennial ryegrass rivals is outstanding.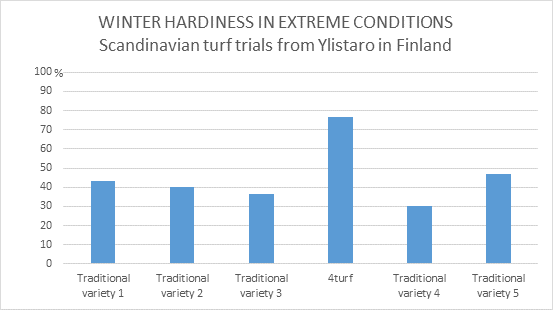 Figure 1: Survival rates for perennial ryegrass (Lolium perenne) in their third lawn year (2016) following their initial seeding year. Cutting height 15-20 mm.
The Finnish tests were conducted by SCANTURF in Ylistaro, a location that regularly experiences tough Scandinavian winters. Nevertheless, FABIAN emerged from the bitter cold with a plant-survival rate of more than 75%.
FABIAN's position at the top of the winter performance league makes it the number-one choice for high-quality lawn and sports turf in the tough Scandinavian climate.
Fabian is not the only 4turf® variety to perform exceptionally well in SCANTURF trials. DOUBLE stood out for its excellent overall winter hardiness, while our new variety, TETRASTAR, made an excellent general impression on the SCANTURF researchers.
4turf® varieties from DLF have performed so well in their SCANTURF winter trials, they now hold the top-three positions on the SCANTURF winter hardiness list.
4turf® – the natural choice for the world's biggest events on grass
4turf® is a new generation of ryegrasses popular in mixtures chosen by the world's top sports stadia. 4turf® varieties have proved themselves to be strong, resistant and persistent in locations where other ryegrasses give in to the weather and disease.
Turf grass seed from DLF was a vital ingredient in mixtures used at most of the French tournament stadia chosen to host EURO 2016 football games. 4turf® also made a name for itself at Brazil's Maracanã stadium during the Olympics in 2016 and 4turf® will also be reresented in the Confederations Cup 2017 in Russia. Because the Brazilian climate is so demanding we advised the Maracanã groundsmen on turf preparation ahead of the games, and helped them create a special mixture suitable for the heat and humidity.
The mixture provided a perfect and uniform playing surface for all matches of the tournament. For us it was an honour to have played a part in the world's largest sporting event. We're especially proud of our 4turf® varieties that continue to offer superior performance at low temperatures and against high disease pressure. Their outstanding performance is officially documented in the Scandinavian, French and UK turf-grass lists.