Green idea aims to make people eat grass
Grass protein can help to feed the world's growing population - and can be manufactured in a financially viable and sustainable way.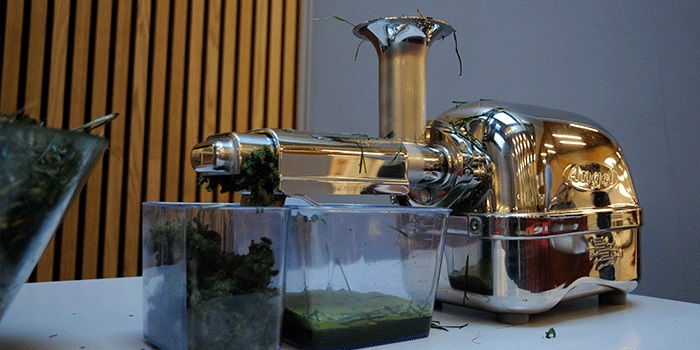 Grass is easy and cheap to produce in Denmark. It is grown throughout the country in large quantities as a catch crop . The grass fixes nitrogen in the roots and thus helps to prevent nutrients in the soil from leaching into waterways. Until now, the crop has mainly been used to feed cattle. In the quest to develop sustainable foods, which can feed the world's growing population, researchers from the National Food Institute, Technical University of Denmark, together with AU Foulum have developed a method to extract protein from grass, so it can be used as a source of food. The amino acid composition of grass protein is similar to that of other protein sources such as soy, eggs and whey. However, producing grass protein has a considerably smaller impact on the environment and climate.

Increase in value by extracting grass protein
The first step involved in extracting the protein is to feed the grass through a screw press, which acts as a huge juicer. It separates the raw material into a fibrous, dry fraction and a protein-containing liquid fraction. A subsequent treatment of the liquid fraction separates out the protein, which is then dried into a powder.
The extracted protein powder can fetch a kilo price, which is approximately 10 times higher than if the raw material was sold as feed. Furthermore, the dry fraction can still be sold as cow feed, which increases the overall profitability and sustainability of the concept.

Camouflage the grass taste
So far the National Food Institute has managed to produce products such as proteinbars that contain up to 10% grass protein without people wrinkling their nose at the taste. This is done by removing some of the grass taste or adding aromatic ingredients such as peanut butter, honey, ginger and liquorice, which help to camouflage the grass taste. The next step is to remove even more flavour and colour from the protein powder, and test the protein's properties in a wide range of food products.
Read more
The work is part of the innovation project BioValue, where DTU, University of Copenhagen, Aarhus University and Aalborg University work with a number of businesses to find innovative ways to better utilize the green biomass.Read more on
BioValue.dk
DLF is a business partner in the BioValue project

Source: DTU Food, National Food Institute