Historically strong result in DLF
With a turnover of m.DKK 7.536 and an EBIT of m.DKK 557 in the financial year 2020/21, DLF presents the strongest financial result ever despite the challenges of the season. DLF has delivered organic growth in key core markets in Europe, North America and Oceania.
Consolidated revenue has been calculated at m.DKK 7.536 in the financial year 2020/21, which corresponds to an organic growth of 3.5% compared to the previous year, when exchange rate fluctuations have been eliminated. The increase in turnover covers growth in the forage & turf seed activities, while the turnover in the beet seed activities is relatively unchanged. Revenue from vegetable seed activities fell after a record-breaking spinach seed harvest in 2019.
EBIT has risen 31.8% to 557 m.DKK, while the consolidated profit after tax has increased by as much as 53% from 2019/20 to 2020/21.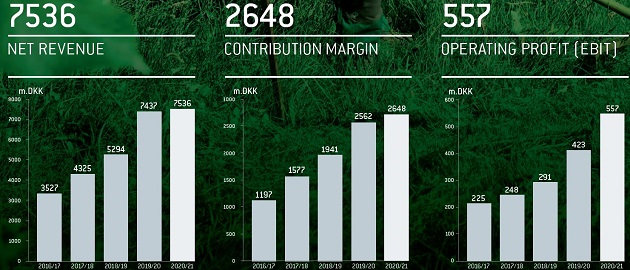 Truels Damsgaard, CEO of DLF, welcomes the new record result:
- The 2020/21 season has been extraordinary and operationally challenging due to the Covid-19 pandemic. Our forage & turf seed activities have performed really well. We have seen revenue growth virtually across the board, and earnings have exceeded our expectations. Revenue growth is mainly due to increasing sales of turf seeds to private and professional customers, especially in Europe and North America, where these segments take up the most space.
- Operationally, we have been very focused on keeping the wheels running in a busy year. We have implemented many different measures to ensure the health and safety of our employees and owe our employees a big thank you for a great effort. Not least the employees who day after day physically showed up at the workplace to ensure that the supply chain remained intact and operational.

At the organizational level, the group management has been strengthened.
- In recognition of the strategic importance of the beet seed business, we found it natural that Hans Christian Ambjerg, CEO of DLF Beet Seed, became part of the Group Executive Board. At the same time, Jette Juel Halberg, global HR director, joined the Group Executive Board to strengthen our global focus on e.g. recruitment, talent development and retention. As part of a generational change, Neil Douglas has joined the Group Executive Board as responsible for our North American forage & turf seed activities, and in addition, Derek Bartlem, new Chief Scientific Officer, has also joined the Group Executive Board. This has given the Group Executive Board greater dynamism and reflects the DLF Group.
Truels Damsgaard sees a company that is well equipped for the future:
- DLF has a strong financial foundation, and we have a solid platform with activities that are well coordinated both geographically and commercially with 2,000 committed employees worldwide. It is a very strong starting point for further developing the business.
Find more key figures and information about DLF in the Business Report, We turn science into growth 2020/21 and in the CSR Report.