Jensen Seeds expand in France and acquires Astera Seed
Jensen Seeds signed yesterday an agreement to acquire French seed company Astera Seed, which, like Jensen Seeds, specializes in the production of vegetable seeds. The acquisition means that Jensen Seeds can increase the supply of vegetable seeds to customers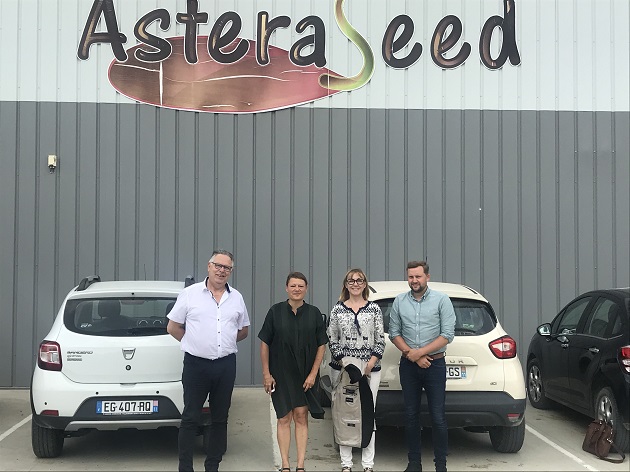 From left: Daniel Pujol (Astera Seed), Ann Laura Luunbjerg (Jensen Seeds), Francoise Falip (Astera Seed) and Morten Jørgensen (Jensen Seeds)
Jensen Seeds is a market leader in multiplication of hybrid spinach seeds and other hybrid vegetable seed crops. In order to diversify both crop portfolio and production locations, Jensen Seeds has for some time been looking for new opportunities to develop seed production of more species in geographies with suitable climate conditions. The access to central and southern France will provide new opportunities for seed production of a number of vegetables.
Truels Damsgaard, CEO of DLF and Chairman of the Board of Directors in Jensen Seeds says: "Jensen Seeds has a great expertise in the complex production of vegetable seeds and is known to the customers for delivering a quality product. We would like to leverage this expertise to develop and expand the production platform for vegetable seeds. It requires production access to other geographies, and by the acquisition of Astera Seed, Jensen Seeds can offer seed production of several relevant species to customers. "
Ann Laura Luunbjerg, CEO of Jensen Seeds, welcomes the fact that the seed company now has the opportunity to add more varieties of vegetables to the portfolio.
"The acquisition of Astera Seed is in line with our strategy to strengthen the partnership with our customers and produce seeds on more species. Therefore we need access to the best seed production areas and with Astera Seed we can expand our production portfolio in France.
Astera Seed specializes, like Jensen Seed, in multiplication of vegetable seeds for customers worldwide. Over the years, Astera Seed have developed rapidly - and today the company produces seeds in the main seed production areas of France, with southern France as the home of the company and their processing facility.
The crop portfolio of Astera Seed is currently mainly focused on hybrid production such as onion, carrot, bunching onion, beet and chard. Open pollinated crops like parsley and coriander are also produced today. In addition, Astera Seed offers production of conventional and organic tomato, melon, leek, watermelon and pepper in tunnels.
Jensen Seeds produces vegetable seeds in Denmark and Germany and is starting production in New Zealand together with PGG Wrightson Seeds.