New hybridgrass in Aalborg
The initial plans for Aalborg Stadium were to change the turf in a couple of years, but the municipality of Aalborg advanced the plans, which means Aalborg Football Club's home ground is undergoing a substantial renovation
The old turf has been removed and half of the 30 cm thick growth layers have been dug off and replaced with a new one that is mixed up in the old one.
The new underlay is capable of quickly diverting heavy rainfall. A new irrigation system has also been installed, the system complies with international regulations, so that the pitch can be irrigated before kickoff and during halftime.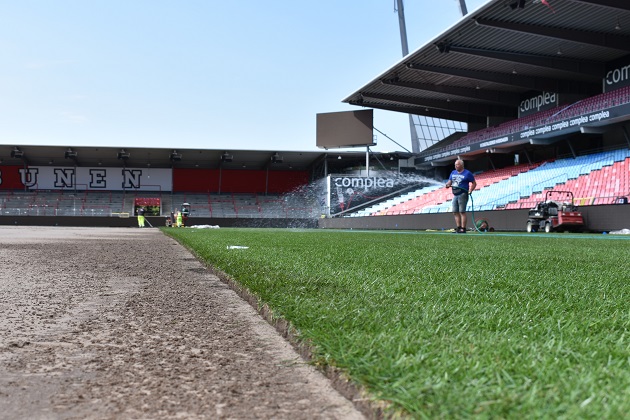 - To save time, we decided to install a sod pitch, as we have an upcoming match on september 4, where the Danish under 21's national team takes on the Ukraine, says Grounds Manager John Larsen, who has 25 years experience in groundskeeping in the municipality of Aalborg.

- In the process of selecting grass, we contacted DLF, and we were fortunate that they had a pitch ready at their sod areas in Ribe. The pitch was originally established as a backup pitch for the European Football Championships in 2020, and it met the requirements for the 3F Superliga. Upon delivery, the pitch was top-dressed with 3-4 millimeters of sand and sown with 400 kilograms of grass seed, fertilized and mown to a high of 2,5 centimeters.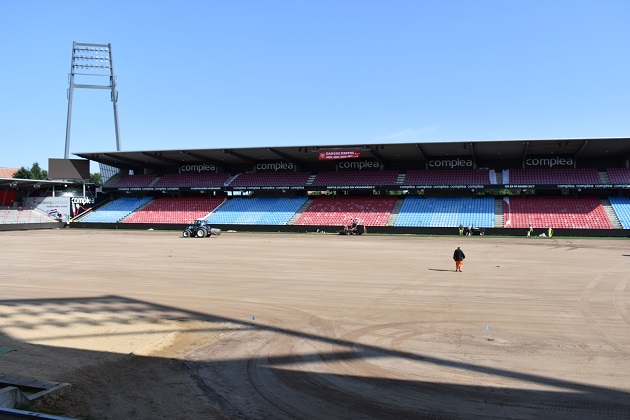 The laying of the 3,5 centimeter sod started on Wednesday, and were completed on Friday. This week, platic fibers will be injected 18 cm in to the underlay and only the top 15 millimeters will be visible at the base of the pitch .

- The turf has reached optimal density, is even and uniform, and I am very happy with the result, and I am impressed with the professionalism of the teams that have been involved in the project, says groundsman John Larsen. I hope we will have a magnificent turf, ready for kickoff in 3 weeks time.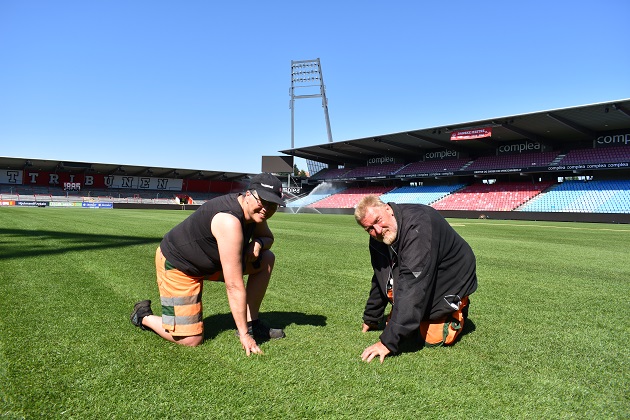 Helle Østerhaab Mortensen and John Larsen are responsible for the care of the beautiful 3F Superliga turf in Aalborg.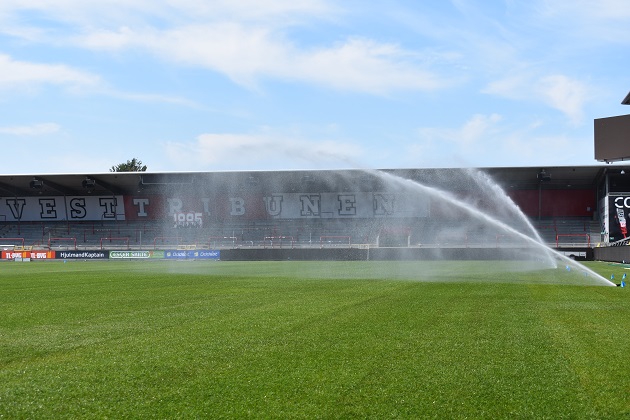 The sod, which now lays in the Aalborg Portland Park is established from Kentucky Bluegrass and turf perennial ryegrass, a mixture of diploid Columbine, Dickens and 4turf ryegrass.