New turf and forage varieties
If you are looking for top-performing varieties in France, you have plenty to choose from. Each year the French seed catalogue opens its lists to many new varieties developed by DLF. Here is a selection of what you can find in 2016.

TURF VARIETIES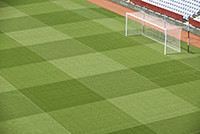 Perennial ryegrass: Our top-ranked ANNECY is the latest in a long line of superb grasses with high wear-tolerance and strong visual appeal. It joins GIANNA (listed in 2015) and other varieties that are improving football-pitch performance for France 2016 and beyond.
Strong creeping red fescues: Two new varieties, LAVERDA and the strikingly dark green CHANTILLY, join the excellent HASTINGS (listed in 2014) and others in our portfolio.
Slender creeping red fescue: The superb performer CATHY is a fitting addition to a strong portfolio that includes the previously listed varieties BEUDIN and ALBERTINE.
Tall fescues: Our new medium-light green ARMANI outclasses all other varieties with its overall performance and excellent winter-long visual appeal. Two other dark green varieties, FOXHOUND and TURFWAY, are currently producing encouraging results in their NTEP* trials (2012 sowing). In a trial with rhizome counts, TURFWAY reveals more rhizomes than most other varieties.
*official US turf trials

FORAGE VARIETIES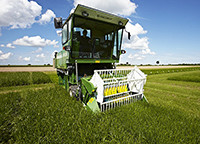 Red clover: For excellent productivity, choose the newly listed GANYMED.
White clover: Two new varieties, DUBLIN (medium-large leaved) and COOLFIN (small-medium leaved) join the selective French list. The pair provide more options for fine-tuning the levels of aggressiveness within a mixture.
Perennial ryegrass: We are delighted that so many excellent varieties have joined the list for 2016:
| | | | |
| --- | --- | --- | --- |
| Variety | HD | Ploidy | Segment |
| MARNIERE | 141 | 4n | Intermediate |
| OLIVE | 142 | 4n | Intermediate |
| SADONNE | 145 | 2n | Intermediate/semi-late |
| BOWIE (name approval pending) | 160 | 2n | Very late |

Note the listing of the exceptionally late-heading BOWIE. Although the beginning of heading is not before mid-May, BOWIE produces very high dry-matter yields in summer and autumn.
Italian ryegrass: The diploid BELLUCI, with its high disease-tolerance and reduced aftermath heading, joins the list in 2016.
Cocksfoot: The relatively recent French cocksfoot breeding programme is proving its worth. CAPTUR, an attractive, disease-tolerant, and highly productive late-heading variety – is our first successful listing.
Please do not hesitate to contact your local representative to hear more about these new varieties.