ProNitro® and DLF technology give grass seed a vital head start
With ProNitro® DLF is at the forefront of the drive for ever-improving performance in grass-seed establishment and growth
ProNitro® and DLF technology give grass seed a vital head start
No industry is immune from economic forces. In the agricultural sector, the pressure is on to improve quality and increase efficiency, which is why farmers are looking to innovators such as DLF for help.
DLF is at the forefront of the drive for ever-improving performance in grass-seed establishment and growth. With one in ten of its employees involved in research and development, DLF devotes valuable resources to developing new varieties and new techniques. And one technique that's revolutionising the forage and turf markets is ProNitro®.
ProNitro® gives grass seeds a head start. It sends them out into the world with all the nutrients they need to establish fast after germination. ProNitro® comes in the form of a thin layer of nitrogen coating wrapped around the seed. A second, outer coating holds the nitrogen in place, especially in the ground where it must stay close to root zone for maximum effectiveness.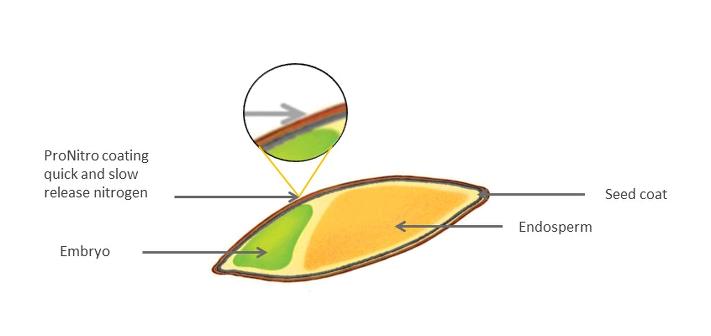 The second layer encourages the nitrogen to dissolve slowly, roughly at the same speed of growth of the young grass plant. By holding back the nitrogen till it's needed, the outer layer prevents the wasteful and potentially damaging leaching associated with less precise methods of fertilisation.
In trials, ProNitro® seed coating produced up to 30% more root growth and up to 30% more viable plants than an uncoated reference. For growers the results are visible within a few days. ProNitro® grass seed establishes with more powerful vegetative growth and fewer opportunities for weeds to establish. It produces a lush green carpet of grass sooner.