Tune in! the Players Championship March 11-14
Tune in this week to see the best players in golf compete on DLF grass. The Players Championship, or simply The Players, is an annual golf tournament on the PGA Tour. The tournament field includes the top 50 players in the world and offers the highest prize payout of any tournament in golf.
TPC at Sawgrass – located in Ponte Vedra Beach, Florida – was constructed specifically for The Players Championship. It is considered one of the most difficult golf courses in the world and features one of golf's most recognizable holes – the par-3, 137 yard 17th, which is known as the "Island Green" (shown below).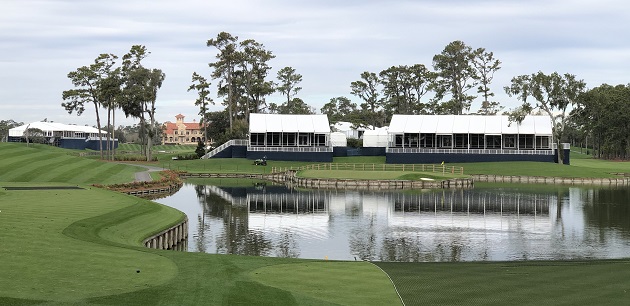 Each winter, TPC at Sawgrass agronomists overseed the dormant bermudagrass with 100% seed from DLF Pickseed and Seed Research of Oregon. In fact, they've been working with our resident experts, Dr. Leah Brilman and Mike Hills, for over 20 years on trials, test plots and winter overseeding.
The agronomy team uses our Champion Fine Mix (80/20) on all tees, fairways and roughs. This specialty mix is 80% perennial ryegrass blend (Banfield + SR4600 + Bandalore) and 20% chewings fescue (SR5130 + Silhouette). They also use our Maximum Poa Trivialis, Velvet Bentgrass and Champion GQ Perennial Ryegrass Blend on greens, as well as SR5130 Chewings Fescue on shaded tees and Transaction Intermediate Ryegrass on general landscape areas around the course.
For more information: https://www.theplayers.com/course.html